Thursday, June 30th, 2005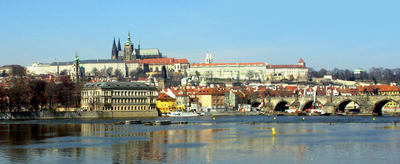 Back from Prague – the Golden City – I must admit that I was very impressed by the changes that have taken place since I was there in 1990, after the wall came down. It's a completely different city it seems, since a lot of buildings have been remade and capitalism has moved in – a bit like east Berlin has changed over the last few years … but with far more older buildings: a lot of art nouveau but also baroque, cubist, renaissance, gothic .. and ultra-modern styles.
The astronomical clock in the Old-Town Square of Prague from 1410 is very cool: it's somewhat like an analogue 3D animation with carved Apostels moving around every hour, a skeleton ringing a bell… And of course the famous Moldau, the Charles-Bridge etc … all very nice, indeed!
The city has a somewhat mediteranean but still northern flair – and yes, it's definitely worth a visit!